Zendesk: Deep Dive Interview with Former Executive
A business breakdown with a former executive of Zendesk. We discussed Zendesk's product evolution, competitors, growth prospects and more.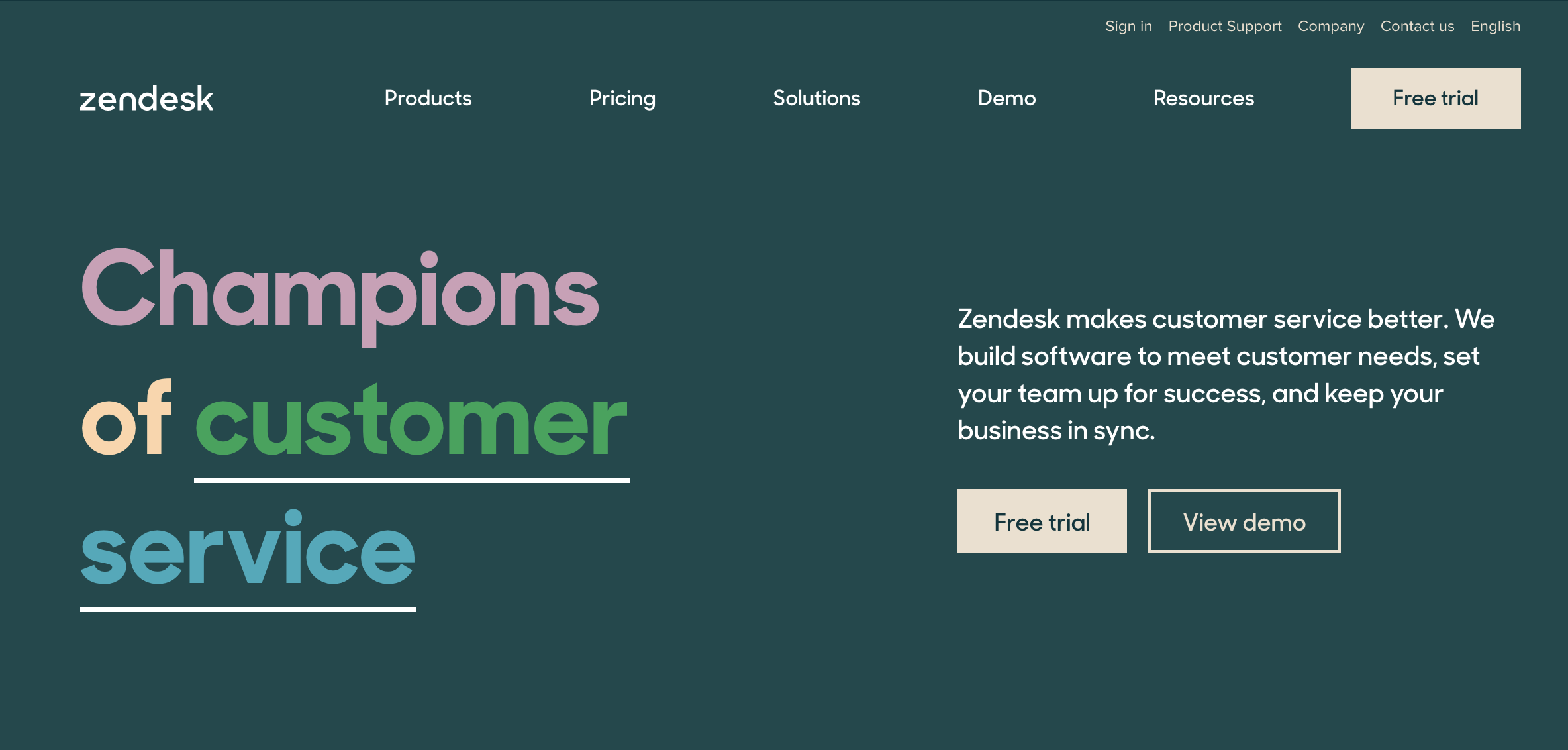 Zendesk (ZEN) has long been a company on my radar. They have become a leader in the customer service space, and help scale many internet-first operations globally. They have demonstrated their ability to grow revenue and generate cashflow consistently.  I like their pace of development, as well as their bets on conversation communications and AI, which should help them solidify their position in a large addressable market (~$85B per company presentation)
Zendesk's main competitors are Salesforce (CRM), in the enterprise space, and Freshdesk (FRSH), in the SMB space. Much of Zendesk's future trajectory depends on how well they can execute against these competitors. As you can see below, Salesforce really remains a dominant force and Freshdesk is gaining grounds on Zendesk outside US.
Overall, I think Zendesk is in a great position to capitalize on the global trend of digital transformation, with SMBs and enterprises across sectors increasingly placing customer experience as a priority.  
Below is an interview I conducted with a former Zendesk executive. I hope you like the insights he shared. Key takeaways include:
Zendesk decidedly remains laser-focused on customer support solutions, which is their core  bet.
Players like Salesforce and Freshworks are gaining grounds.
Zendesk can capitalize on the ample room for innovation and optimization existing in the customer support segment
---
ARPU: What makes Zendesk Support, the company's flagship product, unique among all the customer support software out there?
Early Insight
Former Zendesk Executive: When Mikkel and his two other co-founders started Zendesk, they had an insight that the existing customer support software then was merely an extension to accommodate the topdown implementation of overly complicated legacy business processes as opposed to approaching customer support from the perspective of customers; understanding how they interacted and how they wanted to be served. And that was the unique insight that served as the starting point for the company.
Design language
What you will find at the core of Zendesk is the design language, an absolutely insane focus on usability and user experience, both for the agent side, which they call the agent experience, as well as the customer side, which is the end-user experience. The user experience should feel natural and intuitive without any strong learning curve. All user interactions were designed to be as easy as possible without introducing any friction in the process. And combining this insane focus on user experience with their initial focus on the SMB segment, as it had been in the past decade, Zendesk was able to become the dominant software for customer support in the SMB space.
The product has evolved from there, but the design approach is what makes it different. Salesforce tried to copy that a few times, but you simply cannot replicate it unless you begin your product development with design and user experience at its core as the first and the ultimate goal. And that's why I feel Salesforce failed to compete, particularly with Desk.com, which was an acquisition that targeted SMBs to compete directly with Zendesk Support. And after two or three years of trying, Salesforce had to take it off the market.
What are the alternatives to Zendesk that customers consider?
To fully understand Zendesk, you have to know how the company became a billion-dollar company by 2020 and how they aspire to reach $4.6 billion in revenue by 2025.
Two of the key drivers of the company's growth are its focus on SMBs and velocity acquisition, offering a free trial period for users before converting them to subscription customers. Velocity acquisition is now a standard process, but it was an innovative approach in the early days of Zendesk. And what Zendesk did was to make the whole process fully automated with marketing campaigns driven by their deep understanding of how customers work that continue to feed into the conversion funnel. This robust acquisition engine required very few sales touchpoints, similar to Atlassian's approach to its DevOps environment with Jira. It's crucial to understand this aspect.
Another key driver of that growth was Zendesk's insane focus on customer experience, and viewing customer support as an integral part of value creation for customers were shared by many hugely successful companies. When the likes of Uber, Lyft, Pinterest and Airbnb were just starting out, let's say the founding team with a crazy idea, Zendesk was, without a doubt, the first choice for these small companies, and they are still Zendesk customers. These companies realized establishing a customer support environment that benefits the end-user and understanding their customers through customer interactions and support interactions were as relevant and as important as the core product. And Zendesk did the job perfectly.
Salesforce
Zendesk continues to be primarily focused on SMBs, and the company has made it clear to the market they want to be the best at what they do, which is a customer support solution for everyone.
At the high end, Zendesk is now, inevitably, running into Salesforce with its own cloud-based services. Salesforce, simply by the sheer nature of CRM and cloud-based marketing and commerce services, is totally dominating the enterprise segment. Salesforce owns the segment because they are so dominant with their CRM solution. But Zendesk has made some very successful inroads in taking customers away.
Freshworks: A more affordable Salesforce
At the lower end, you have a company called Freshworks, which has come on very strongly in just a few years with their initial solutions on Freshdesk, which essentially took the Zendesk playbook but made it much more affordable. They have a cost advantage for those bands where customers are highly cost-sensitive. That means mom and pop shops with four or five or maybe ten support agents but not nearly a global presence. For this segment, it's much more cost-effective to adopt Freshdesk.
Freshdesk initially focused on the whitespaces - geographic, industrial, or functional areas to which Zendesk was not paying close attention. And while Zendesk was growing to become a billion-dollar company, it left too many white spaces behind. Some were in Africa, some were in the Indian subcontinent, and some were even in Central Europe. Some were natural whitespaces, but you simply cannot afford not to pay attention. And Freshworks, or Freshdesk as it was known then, really seized the opportunity.
When Freshworks started, they could and decided to build on the most modern architecture and environment, which was AWS with all of its built-in tools, built-in data models, storage, security, and whatnot that Zendesk did not have when the company started in 2007/2008. Freshworks fully capitalized on this advantage to drive innovation at a lower cost, higher clip, and faster pace. This also explains the high velocity with which they could penetrate new markets, achieve growth, and go public.
The difference between Zendesk and Freshworks becomes more pronounced when we compare their respective long-term strategies.
Zendesk, even with its Momentive acquisition to build out its product portfolio, they're still focused on being one thing - to become the best all-around customer support solution in the market. Of course, the portfolio has artificial intelligence, chatbots, self-service panel components, automation, and more, but they're not really venturing much beyond their singular goal.
Whereas if you examine where Freshworks is heading after its IPO, they now have solutions that go way beyond customer support. They now have a marketing solution, an H.R./workforce management solution, and even a component for I.T. service management. Freshworks is much broader than just customer support. They are trying to be a Salesforce with a broad product offering but targeting SMBs with a lower price tag but a higher rate of innovation using a very agile development model. This is something that Salesforce cannot do simply due to its sheer size and commitment to the enterprise markets; Salesforce cannot compete effectively in the SMB market.
In contrast, Zendesk has made it clear that they want to be neither broad nor deep. They want to focus entirely on the segment they dominate today and will continue to lead, which is the customer support market.
I want to pick up on the divergence of the long term strategies between Freshworks and Zendesk. How much room do you think there is for innovation within the customer support space?
From a product person's product perspective, the dominant macro trends in our daily life influence how brands today relate to consumers and how consumers relate to brands.
Instant communication channels
What we can be sure of today is the landscape of commercial interactions has completely moved online. This shift applies not just to pureplay e-commerce but also citizens interacting with government or government agencies, patients interacting with the health care providers, families interacting with their schools or their daycare and so forth.