Why Alibaba is actually an advertising company
Alibaba has been under a lot of regulatory scrutiny since 2020, and just last month, the rumor of a "Ma" detention has triggered another round of investor sell-off in this tech giant.
However, that hasn't deterred Bridgewater from increasing its stake in this Chinese tech giant. Charlie Munger also made a massive bet on Alibaba last year, before reducing his position recently.
So what is Alibaba, really? In this article, I will explain:
why Alibaba is actually an advertising company
the evolution of Alibaba and its business segments
the downfall of Alibaba
Let's dive in!
What is Alibaba
Alibaba is one of the most well-known online marketplace in the world, and people most often compare Alibaba to Amazon or e-bay, whom Alibaba initially copied the business model from. A cursory look at their business segment would indicate that they are first and foremost a commerce company: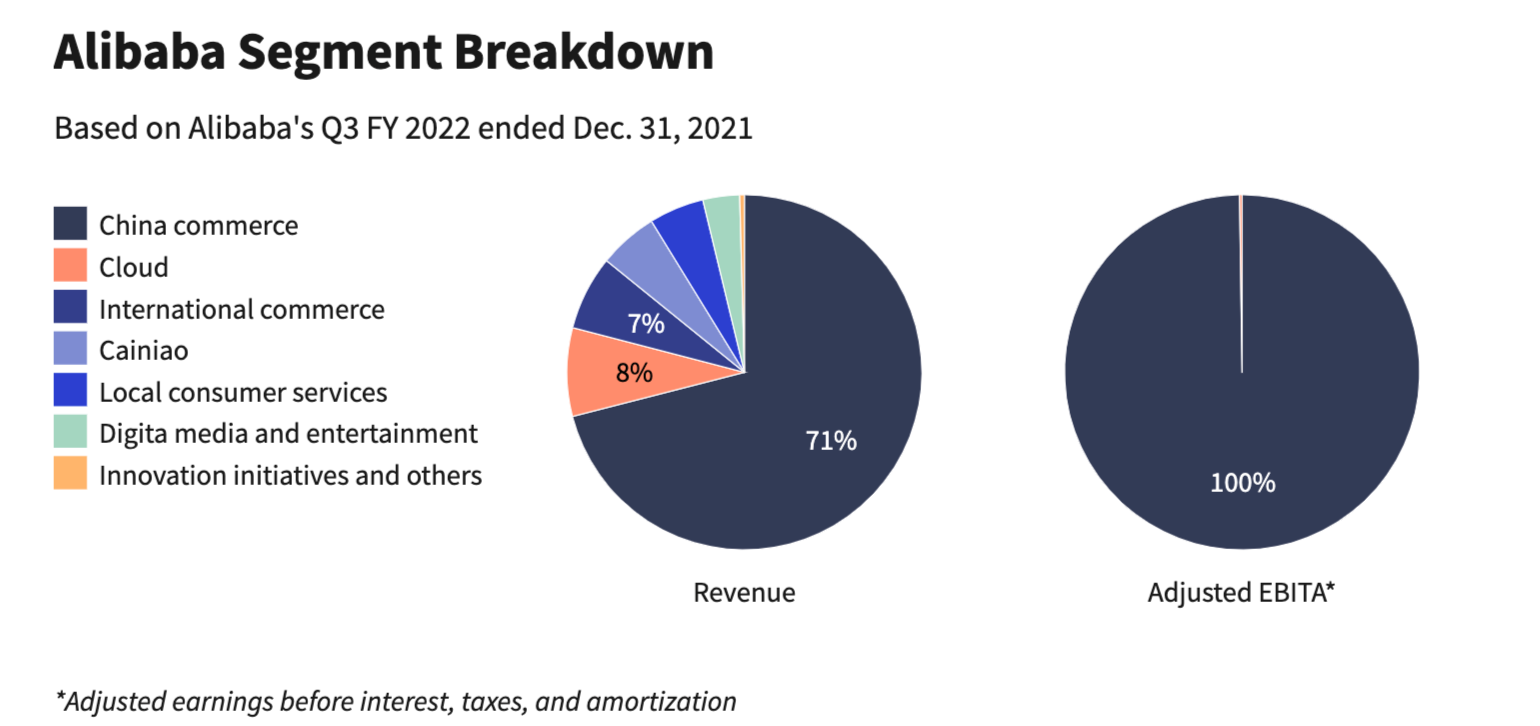 While the business model is one of commerce, the way they actually monetize their marketplace is through digital advertisement through Alimama, the advertising platform of Alibaba. A few years ago, Alibaba's CFO Maggie Wu commented that 60% of the company's revenues were derived from Alimama. Although the figure hasn't been updated since, 3rd party reports indicated that the group generated over RMB100 billion of digital ad revenue in mainland alone in 2021. This puts Alibaba at the first place among all tech companies in China: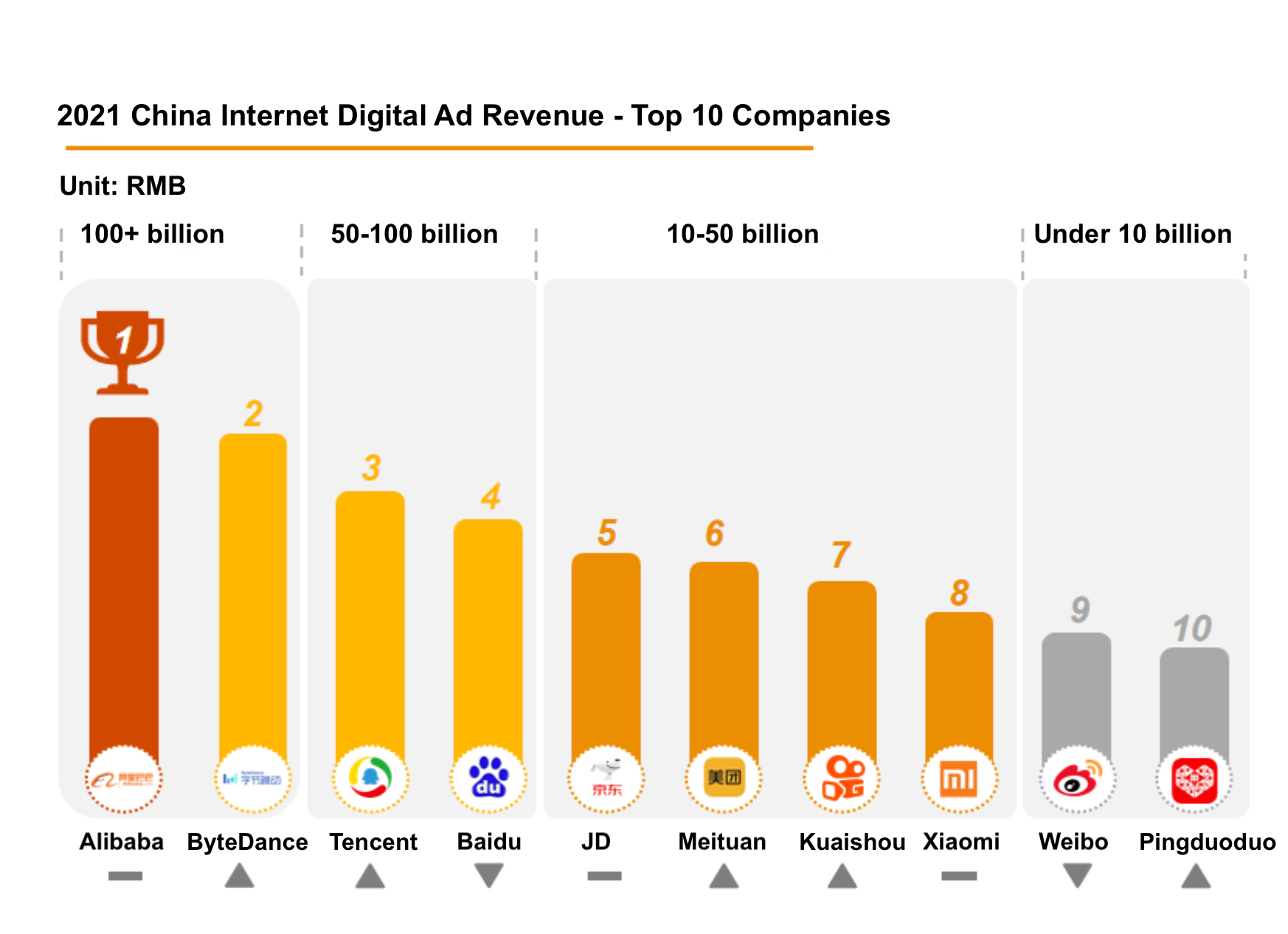 Alimama gathers user data from Alibaba's sprawling ecosystem – including Taobao, Tmall, AliPay, UCWeb, AliExpress, and GaoDeMap – and lets customers buy display ads across those platforms. The sheer size of Alibaba marketplaces, largest in the world by a comfortable margin, means they have the deepest pool of user data for data-driven analytics.
The majority of Alimama's ad revenue comes from Taobao and Tmall, which let merchants promote their product listings through cost-per-click bidding platforms. Larger merchants and brands can also purchase display ads across Alibaba's marketplaces.
Now let's look at how Alibaba became the company it is today.
The evolution of Alibaba
Core business
Alibaba was founded in June 1999 by 18 people led by Jack Ma, a former English teacher from Hangzhou, China. Merely four months later, Alibaba received a US$25 million investment from Goldman Sachs and SoftBank. Alibaba.com was their first product, which is a B2B marketplace helping Chinese SMEs export products to the global market. Through the platform, a foreign merchant can find a manufacturer in China to create bulk products and have them imported into the merchant's country. In many ways, Alibaba acts as the sister site to Amazon, as many of Amazon's merchants purchase goods from Alibaba.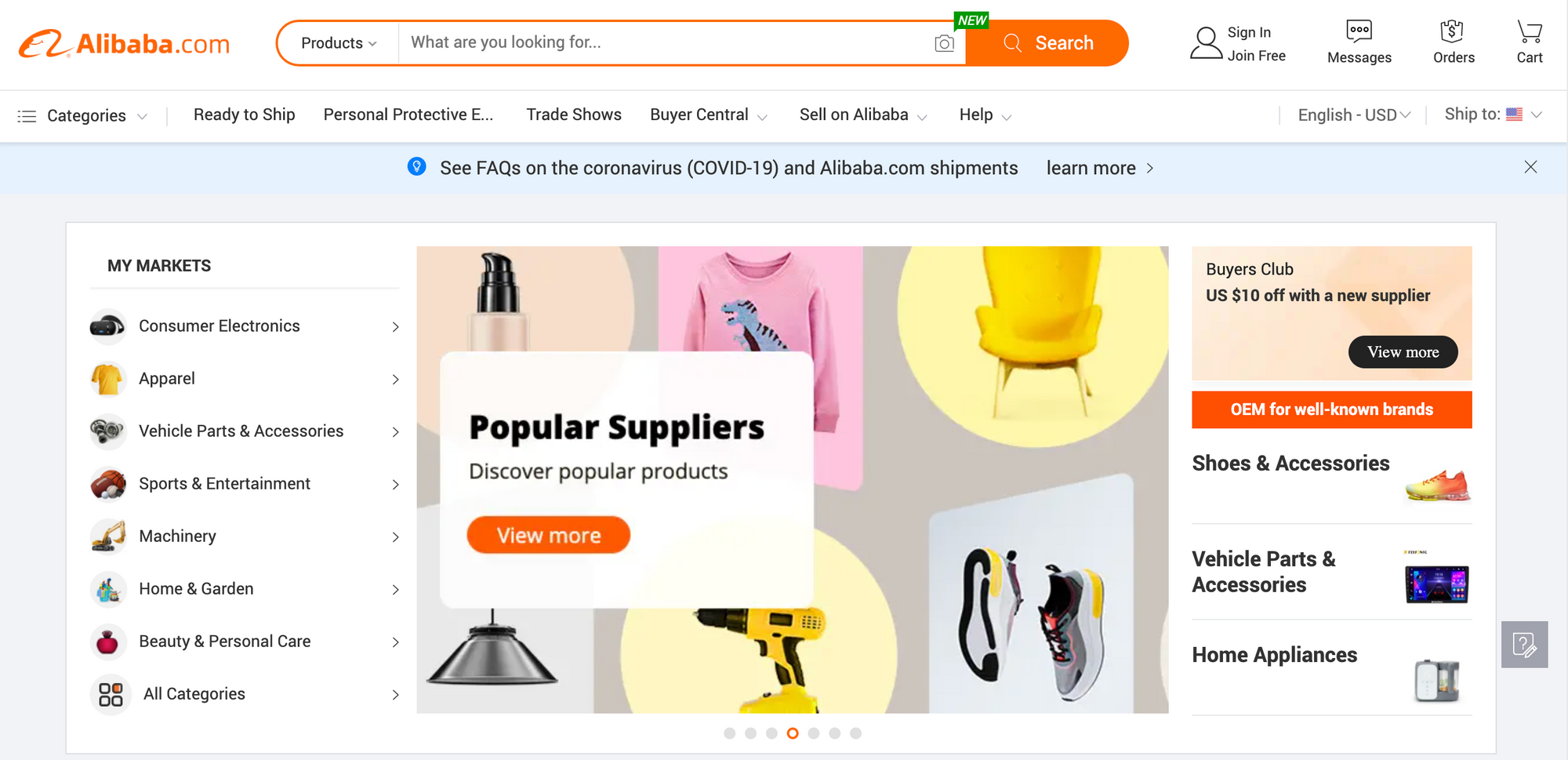 Then they started Taobao, which is an eBay/Amazon-equivalent in China and is currently largest e-commerce store in the world. The appeal of Taobao is obvious, especially in a country like China. Say you are a micro-entrepreneur in a tier three city in China and want to start selling a product or service or a brand. Instead of launching your shop in a street in your tier three city, you can simply go to Taobao, leverage their ecosystem, tools and logistics, and start selling there.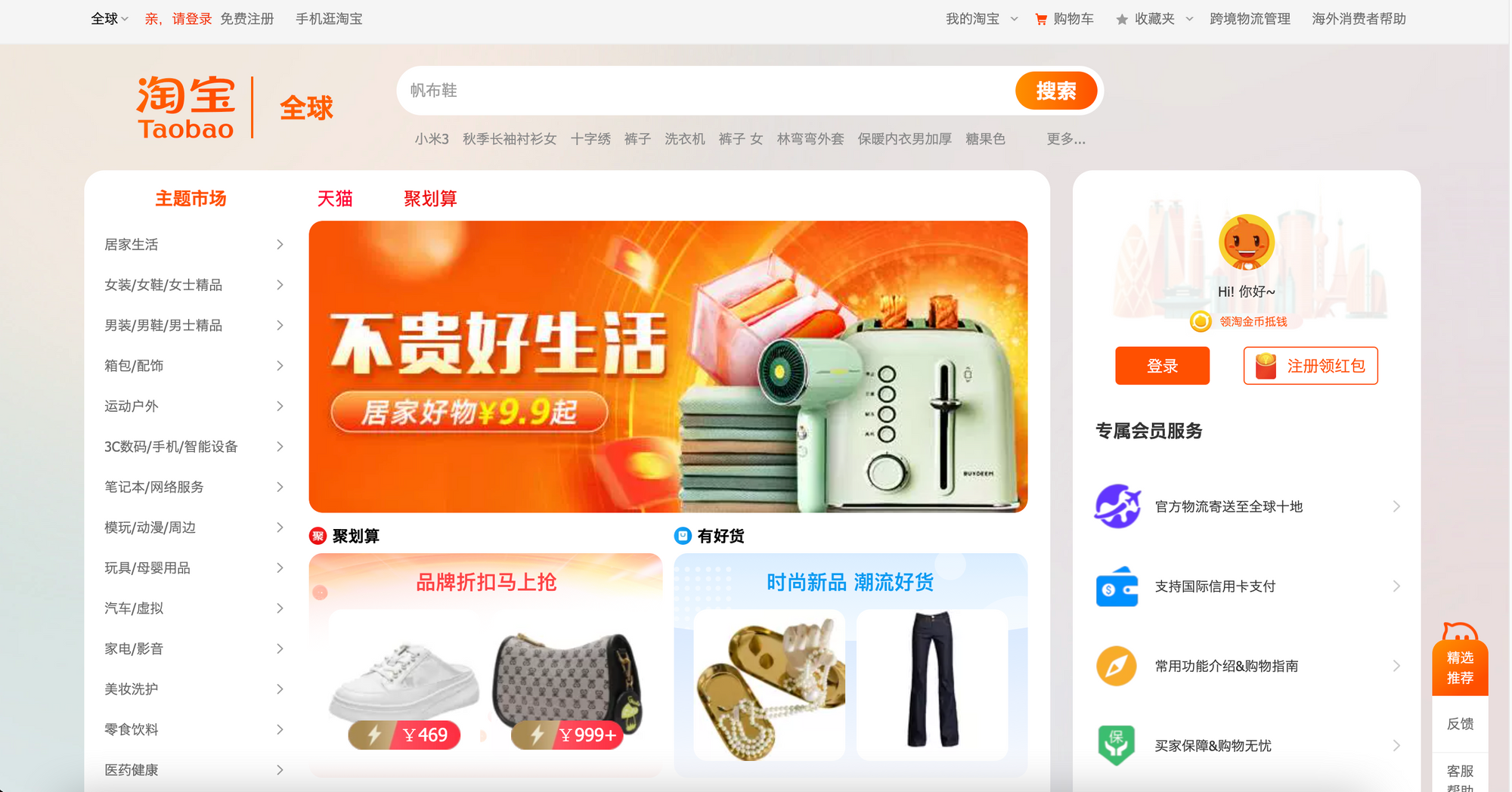 After that, they built Alipay, which was the escrow mechanism aiming to address  buyers and sellers' concerns about transacting online in the country's then-nascent e-commerce market. Note that Alipay has since been spun off as Ant Financial (which Alibaba owns 33%) and has grown into a fintech behemoth that was in the crosshair of Chinese regulators during the IPO debacle in 2021 (more on this later).
In 2008, Alibaba built Tmall, which is a marketplace for branded businesses, one that Nike and Adidas and local Chinese brands would create shops on. Tmall is now the second largest marketplace in the world, behind Taobao.
It is important to understand the scale of Alibaba's marketplace here. According to Digital Commerce 360, Taobao and Tmall generated a combined US$1.1 trillion in GMV in 2020. To put that number into perspective, the GMV figure was US$300 billon for Amazon and US$100 billion for ebay. Incredibly, 80.5% of online sales in China flowed through Taobao and Tmall, and collectively, they represented 23.3% of global gains in e-commerce.
In 2009, they also built Alibaba Cloud as they started seeing how Amazon would take that infrastructure and monetize it as a service. Although growing at 30+% year-on-year, Alibaba Cloud is still a minor part of their business, contributing less than 10% of their revenue at the time of writing.
Logistics
Note that Alibaba doesn't own logistics. The logistics of Alibaba's marketplaces are handled by Cainiao, the logistic platform of Alibaba launched in 2013. Cainiao is different from traditional logistics companies because it does not own most of the warehouses or depots it leverages. Instead, they rely on a data-driven "platform model" (i.e. decentralized, horizontally integrated, asset-light), meaning the actual deliveries are carried out by a network of "logistics partners" curated and aggregated by Cainiao.
Cainiao aims to create a virtual platform for an intelligent logistics ecosystem. This approach has allowed Cainiao to piggy-back off existing infrastructure and to scale up quickly in a mature sector, while avoiding steep fixed costs.
Prior to launching Cainiao, Alibaba has had full control of the business flow, information flow and capital flow in its ecosystem, but it doesn't have any control over the logistics part. The establishment of Cainiao allows Alibaba to fully control the entire value chain, all the way from businesses to consumers. The diagram below illustrates the flow of Alibaba ecosystem.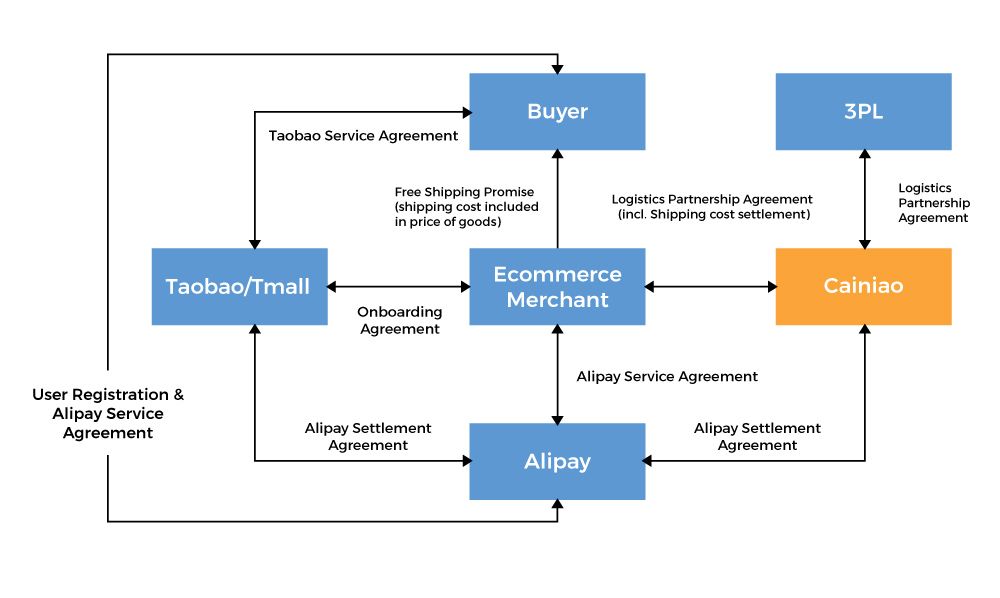 Although Cainiao isn't going into the courier business, incumbent courier companies are increasingly dependent on Alibaba to receive courier business as it controls a lion share of the e-commerce market. What's more, by accessing Cainiao for orders, all these courier companies and logistics operations companies have to follow logistics rules developed by Cainiao, who effectively sets the industry standards for logistics.
Ongoing troubles  
The recent troubles of Alibaba began in 2020 when Ant Financial, a 33%-owned affiliate, was planning for a dual IPO in Shanghai and Hong Kong to raise a world record $34billion. The following is a timeline of the events leading up to to massive sell-off of Alibaba:
Summer 2020: Chinese regulators begun dialling up regulatory scrutiny on tech giants. In September, Chinese regulators issued new rules to regulate financial holding companies, saying there had been a loophole in regulations for such companies. Ant Financial was one of the companies being named by the People's Bank of China.
October 2020: Ant Financial obtained green light from Chinese regulators for the dual IPO. Later that month at a public event, Jack Ma said the financial and regulatory system in China stifled innovation and must be reformed to fuel growth. He also compared the Basel Committee to "an old man's club"
By 30 October 2020, retail investors had bid for a record $3 trillion(!) worth of shares in Ant's dual listing. To put the figure in perspective, it is larger than the GDP of United Kingdom.
November 2020: China's top financial regulators conducted regulatory talks with Ma and Ant's top two exec. One day later, Shanghai stock exchange suspended Ant's IPO, and Ant's HK IPO was also put on hold.
Later that month, regulators held talks with Tencent, Meituan, ByteDance, Alibaba & others on addressing monopolistic practices, unfair competition and counterfeiting. Regulators also released draft antitrust guidelines to rein in internet-based monopolies, signalling policymakers' heightened concerns over the growing influence of big tech players, also marked the first time China attempted to define what constitutes anticompetitive practices
December 2020: regulators dropped a hammer on Alibaba on Christmas' Eve, commencing an antitrust investigation on the group. This also coincided with the wide speculation on the whereabouts of Jack Ma.
2021: throughout much of the year, regulators had been slapping fines on Alibaba (and other companies). The biggest fine for Alibaba came in April, amounting to a record US$2.8b (more than 2X the previous record imposed on Qualcomm)
Meanwhile, Alibaba's stock went into a nosedive: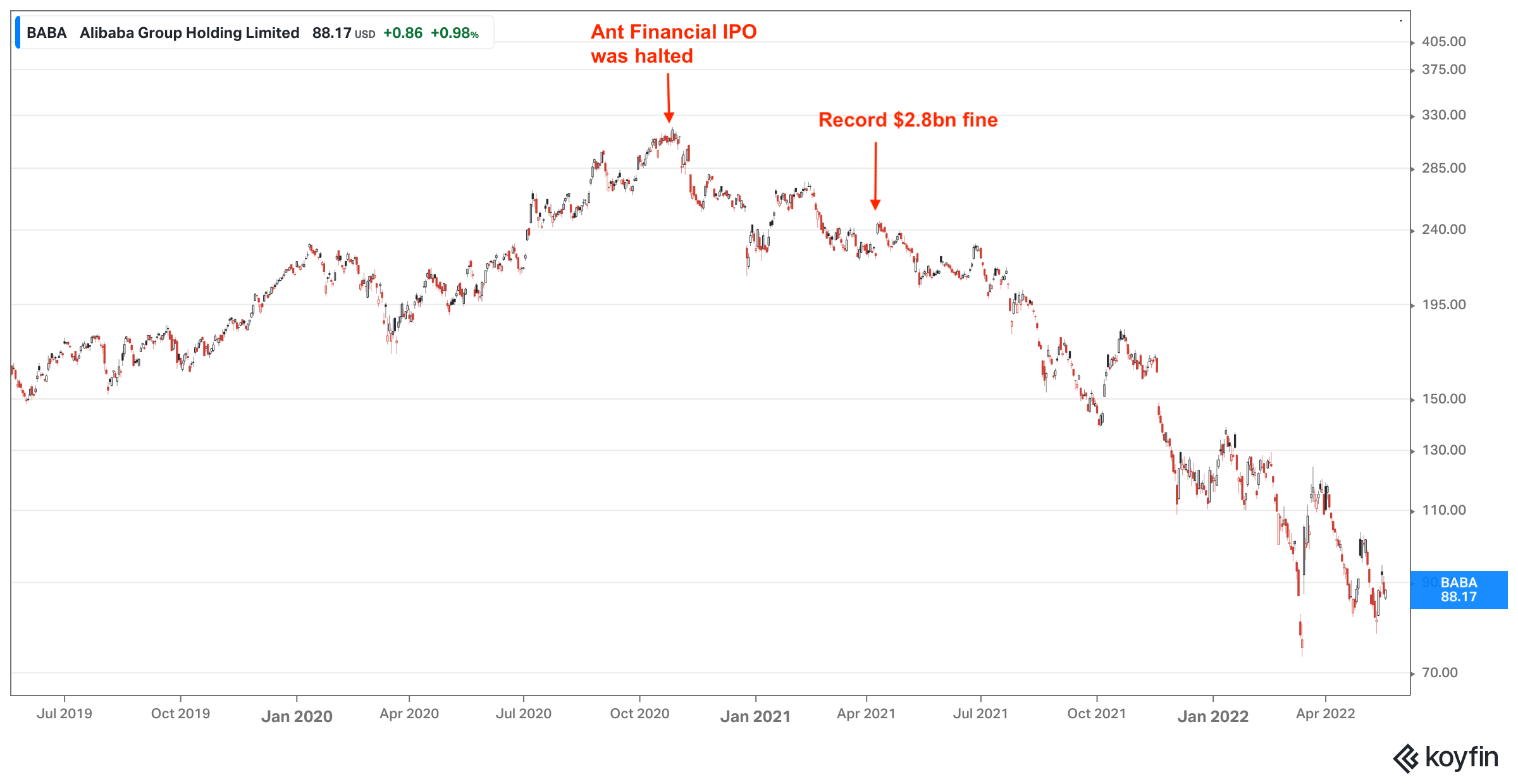 But regulatory crackdowns aren't the only troubles that Alibaba is facing. Alibaba has been losing digital ad market share to ByteDance, the fastest growing social media in history. This is a topic that warrants another post, and I will save the competitive landscape in China for another post.